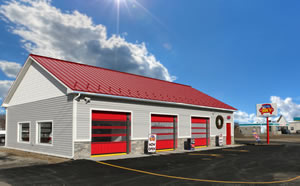 Gift Cards
Gift cards purchased for the Vestal Parkway location may ONLY be used at this location.
Gift cards for the Vestal Parkway can be purchased ONLY at the Vestal location.
---
Open 24 hours a day
7 days per week!
---
Find Us
137 Vestal Parkway E. Vestal, NY
We are located on the Vestal Parkway East, near the intersect of the Parkway and Clayton Ave.
CLICK HERE FOR CUSTOM DIRECTIONS »
---

We proudly accept Visa, Master Card, Amex and Discover.