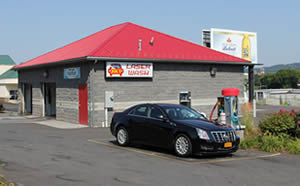 Open 24 hours a day
7 days per week!
Services
Two (2) fully automatic Laser Bays
Three (3) vacuum stations
Vending panel for all of your car care needs.
Gift Cards
Gift cards purchased for the Conklin Ave location may also be used at the Upper Front Street and Main Street locations.
Click here to learn how to use the payment interface for this location!
CLICK HERE TO ORDER GIFT CARDS »
Find Us
207 Conklin Avenue, Binghamton NY
We are located on Conklin Rd, two blocks west of the instesection of Conklin Rd with Tompkins Street in the City of Binghamton.
CLICK HERE FOR CUSTOM DIRECTIONS »
---

We proudly accept Visa, Master Card, Amex and Discover.